Matthew Ackerman became interested in quantum dot thin films while studying for his Ph.D. in physical chemistry at the University of Chicago. Beginning in 2016, he developed novel approaches to modifying the chemical composition and improving the technology readiness level of photodetectors based on mercury telluride colloidal quantum dots. During his doctoral studies, he made significant contributions to the development of short-wave and mid-wave infrared photodetectors which resulted not only in publications but also saw a patent filed.
Karin Calvinho's company, RenewCO2, was founded in 2018 as a spin-off of research she was involved in at Rutgers University as a Ph.D. candidate. She chose to research catalysts for energy applications because they have an impact on the quality of life of all human beings. This field has critical and challenging problems to solve, such as decarbonizing energy production. She uses the toolbox of chemistry, materials science, and manufacturing technologies to look for solutions that close the carbon loop and help mitigate the environmental effects of catalytic processes.
Pranav Gokhale is a doctoral candidate in quantum computer architecture at the University of Chicago. He developed Super.tech as an extension of the research project EPiQC: Enabling Practical-Scale Quantum Computation, which is the flagship quantum computer science project of the National Science Foundation. His goal is to help bridge the gap between existing theoretical algorithms and practical quantum computing architectures.
Margaret Kocherga is a doctoral candidate in Nanoscale Science at the University of North Carolina at Charlotte. Her focus is organic-inorganic hybrid materials for the next generation of organic electronics. In 2019, she founded her start-up company, Light and Charge Solutions, to further explore the potential of these materials.
Christopher Passolano is a doctoral candidate in Materials Science and Engineering at the Illinois Institute of Technology (IIT). His primary goals are conservation and improved energy storage. He focused on high performance rechargeable batteries because they are the foundational technology that will play a critical role for the success of several emerging industries such as electric vehicles, electric aircraft (particularly electric vertical-takeoff-and-landing aircraft), and commercial drones.
Carol Scarlett is the founder of Axion Technologies, LLC, which is working on the next generation of encryption devices, a true random number generator. She holds a doctorate in particle physics from the University of Michigan and is an Assistant Professor of Physics at Florida A&M University. The idea for Axion's focus came from work being performed in experimental nuclear and particle physics to determine how light should be deflected after repeated quantum interactions.
Khalid K. Alam is cofounder and CEO of Stemloop, a synthetic biology startup that is unlocking the power of biological sensors. In 2016, Khalid received his Doctorate in Biochemistry and Graduate Certificate in Life Science Innovation and Entrepreneurship from the University of Missouri, where he built computational and biomolecular tools to address a number of problems ranging from high-throughput sequence analysis to targeted drug delivery.
Yu Kambe is the Co-founder and CEO of NanoPattern Technologies, a company that is enabling advanced quantum dot display manufacturing. Yu received his B.S. in Materials Science and Engineering from Cornell University in 2013. He is currently working on his Ph.D. dissertation at the University of Chicago Institute for Molecular Engineering.
While completing a Master of Engineering Management degree at Northwestern University, Katie Kollhoff leads the NUMiX Materials team in business development, external partnerships, and company management. She is a chemical engineer with over a decade of experience in chemical process safety and process performance analysis.
Kevin O'Connor earned a Ph.D. in Electrical and Computer Engineering from the University of Missouri with a research focus on the development and characterization of dielectric materials and components for high voltage, high power systems. He founded Caporus Technologies, LLC in 2018 to focus on the development and commercialization of novel thin-film dielectrics for high energy density capacitors.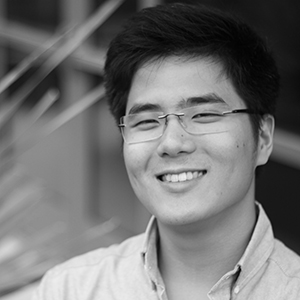 Gary Ong holds a B.S., M.S. and Ph.D in Materials Science and Engineering from the University of California, Berkeley. Focusing on ion transport materials in his doctoral studies, he built a variable temperature and environmental platform to study the ion transport properties of porous ceramics and composites.
Erika is founder and CEO of Accelerate Wind, a company that is working to revolutionize rooftop wind energy in the commercial and industrial spaces and drastically lower the cost of small wind turbine technology.
Tom is a Ph.D. chemist who is passionate about finding practical solutions to real-world technical problems. Tom serves as Director of the Organic Energy Storage Laboratory at the Michigan State University Bioeconomy Institute in Holland, Mich. In 2014, he co‑founded Jolt Energy Storage Technologies, LLC, where he hopes to use molecular design principles to create organic compounds that will revolutionize the field of energy storage.
Chad is a physicist specializing in nanoscale optical materials and devices. Chad's research aims to harness emerging materials for applications in silicon photonics for energy-efficient computing and data centers.
David is a Ph.D. candidate in the Department of Aeronautics and Astronautics at Stanford University, where he works in the Aerospace Computing Laboratory under the advisement of Professor Antony Jameson.
Ted is currently devoted to the commercialization efforts of an advanced electrode fabrication technology, which provides a comprehensive and generalizable solution that affords high stability and electrochemical performance to conventional lithium-ion battery materials.
Veronika is a postdoctoral research associate at the Massachusetts Institute of Technology's (MIT's) Institute for Soldier Nanotechnologies. She is also co-founder and CEO of Mesodyne, Inc.
As a co-founder of ClearFlame Engines, Dr. Julie Blumreiter is working to bring clean, low-carbon, high-performance engine solutions to market in order to change the landscape of the long-haul heavy duty trucking industry.
Dr. Bernard Johnson earned a B.S., M.S., and Ph.D. in mechanical engineering from Stanford University where he worked in the Advanced Energy Systems Lab. His research focused on developing ways to significantly improve the efficiency of internal combustion engines for heavy-duty transportation.
Dr. Justin Whiteley is an electrochemist and materials scientist whose specialty lies in the field of electrochemical devices, namely lithium-ion batteries and super capacitors. He is currently the chief technology officer and co-founder at Emergy, LLC, which focuses on advanced carbon material synthesis through biofabrication.
Dr. Tyler Huggins is an engineer, scientist, and entrepreneur. Huggins is passionate about the application of technologies to facilitate sustainable human development. He firmly believes that clean technologies can be both economically and environmentally advantageous.
Felipe Gomez del Campo is the founder and the CEO of FGC Plasma Solutions, a Cleveland-based company, which is developing a novel fuel injector for jet engines and gas turbines.
Hamilton is currently researching non-equilibrium plasma physics and radiation generated plasma for his M.S. He also is the founder and CEO of Atlas Energy Systems, an energy development company focused on the conversion of nuclear waste into usable energy.